Pind Daan At Gaya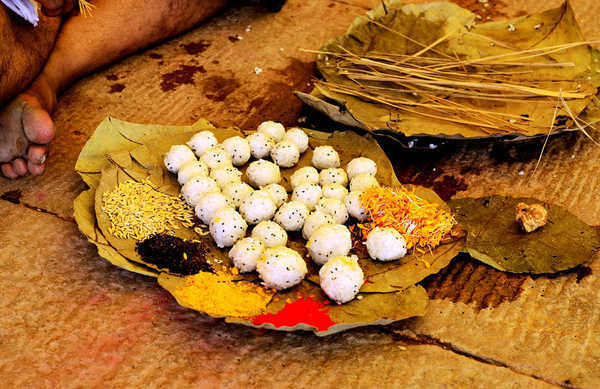 Gaya ji is called as Moksh Sthali where people from Hindu religion offer Pind Daan to their ancestors who departed from this world.
The ritual is performed by the children of the family and carried out by the Panda ji. By specific procedure and Mantras the souls of the ancestors are called at Gaya Ji Dham who are yet to attain Mukti after their death
Moksh is considered as Mukti from the birth, death and rebirth cycle.
How to Reach Gaya Ji Dham
Gaya is well connected by Airways, Railways and Road with rest of the country. The nearest Airport is Buddha International Airport, Gaya and the nearest railway station is Gaya Junction. However the most preferable way is Indian Railways. Gaya is well connected with State run roadways as well as Private Bus / Taxi operators. Train services are available to almost every prominent destination to the rest of India
Living Abroad or not able to visit Gaya ? Book Online Pinddaan
What is Pind Daan
As per the Hindu belief with a death only the materialistic body dies while soul being immortal still remains attached to this materialistic world even after the loss of the body. As a result the soul can not detach himself / herself from this world. Being in the body less state the soul suffers immense pain.
Pind daan is a Hindu ritual known as the way of Mukti to the ancestors who departed. Mukti means Freedom from the cycle of Life and death & rebirth.
PIND DAAN is the process for the soul to achieve the relief from the pain and also paves the way for their onward journey to the ultimate world of Peace.
As per mythological story as depicted in Hindu scriptures Vayupurana, in relation to Gaya Mahatam, while creating human being, Lord Brahma created a demon named as Gayasur.
The demon Gayasur went atop the kolahal Mountain and offered great penance to Lord Vishnu. Lord Vishnu got extremely pleased with Gayasur asked him to seek one blessing. Gayasur requested Lord Vishnu, whoever comes in touch with him be it an angel or a demon, an insect, a sinner, a saint or a sage, or an evil spirit should find salvation after having been purified of all sins. From that day with the blessings of Lord Vishnu one who comes in touch with Gayasur finds salvation and proceed to Vaikunth Dham ( place of Lord Vishnu ).
Beginning of Pind Daan
Though there is no concrete evidence since when the Pind daan started but it is believed Lord Brahma first performed the pind daan ritual in Gaya. Since then this ritual is being performed by millions of people across.
However Pind daan can be performed around the year but offering pind daan during the dark fortnight of Ashvin is of immense significance.
In simple terms the word pind means a body while the word daan denotes charity or giving. Therefore, pind daan means giving charity to the body of the departed soul.
What is Pind
Pind is a symbolic representation made of a mixture of oats and rice flour with some sesame seeds mixed along with some milk and honey. A total of seven such balls are made of 100 grams of flour. Of these, one is offered to the deceased and the rest to other ancestors.
Pitripaksh Mela
Pitripaksh Mela or Pinddaan mela starts from the day of Bhadra Shuklapaksh (Anant Chaturdashi Puja) and ends on Pratipada of Ashwin Shuklapaksha according to the Hindi Calendar Pitripaksh Mela is very important for religious, mythological & historical aspects. Offering Pind Daan during the dark fortnight of Ashvin is of auspicious significance.